amid salad boom, Salata rebrand goes national
January 29, 2020
Company Seeks Franchisees in Next Steps of Growth
It's easy to see why customers keep coming back to Salata.
With a bright, fresh and fully customizable menu, Salata set a standard from the beginning. And as they approach their 15th anniversary, their standard hasn't changed.
But Salata's brand has.
Though they were ranked among the fastest-growing and top fast casual restaurants, in 2019, Salata still had opportunity to build on that momentum and gain national attention. Basing their decision on extensive consumer research, they refocused their attention on enhancing guest experience.
With a bold new look and technology to match, Salata's future is bright—and they're seeking franchise partners.
Salata's Beginnings
Founded in 2005 and based in Houston, Salata has grown to include over 90 locations across six states. Salata made its food the star of the show and gained early success by keeping salad ingredients bright, fresh, and inviting to guests—all while establishing operational best practices along the way that led to proven profitability.
With these fundamentals in place, Salata took a step forward: updating its brand and enhancing guest experience.
Shifting the Focus
Creating a new look for Salata began with a clear goal: to celebrate Salata's foundation—its food—while also elevating the individuality of its guests.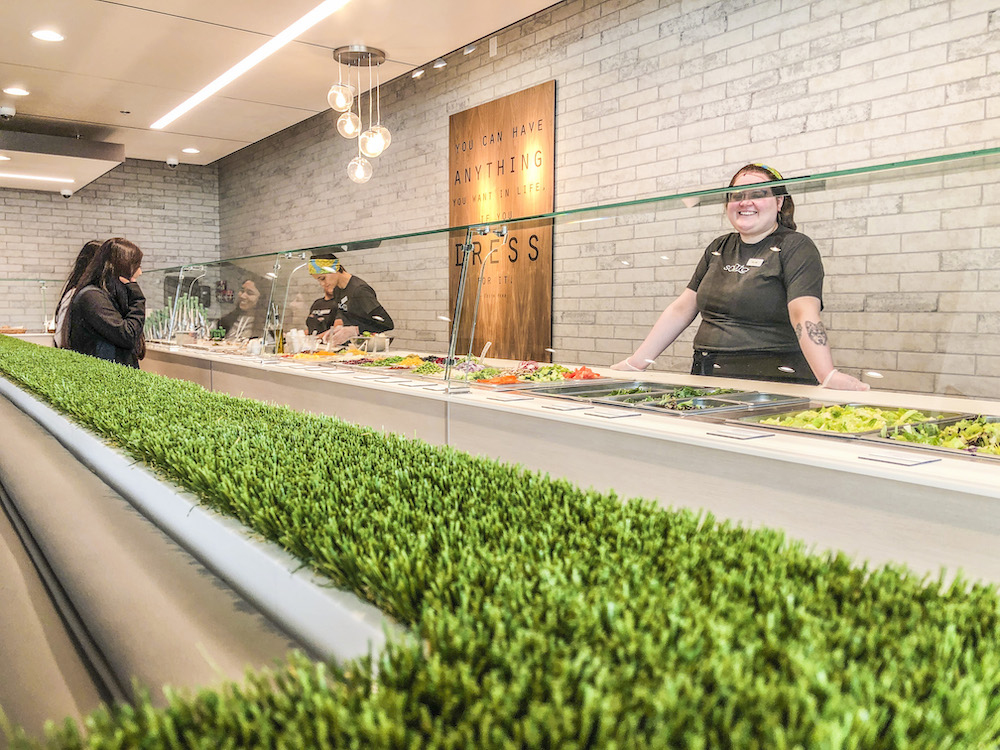 Grounded in research, Salata's new brand is simple, playful and genuine, inviting guests to salad how you feel. The brand highlights Salata's customizable menu while encouraging guests to be authentically themselves.
Salata president Michelle Bythewood, a 30-year veteran of the industry, spearheaded the rebrand, moving into her role as president after serving as Salata's chief marketing officer.
Bythewood explained, "We are putting more intention on the front-of-house customer experience. This will help us stand out from competition in this space and support the aggressive growth plans we have laid out in front of us to enter new markets and attract new guests."
Modernized and guest-centric, the rebrand includes Salata website, its restaurant design and more. Franchisees enjoy confidence that comes from branding based in research and focused on the guest experience.
Building the Look
The first Salata prototype was unveiled in Lake Mary, Florida, in February 2019. All new Salata restaurants will be built with this look as refreshes of existing locations continue throughout the next few years.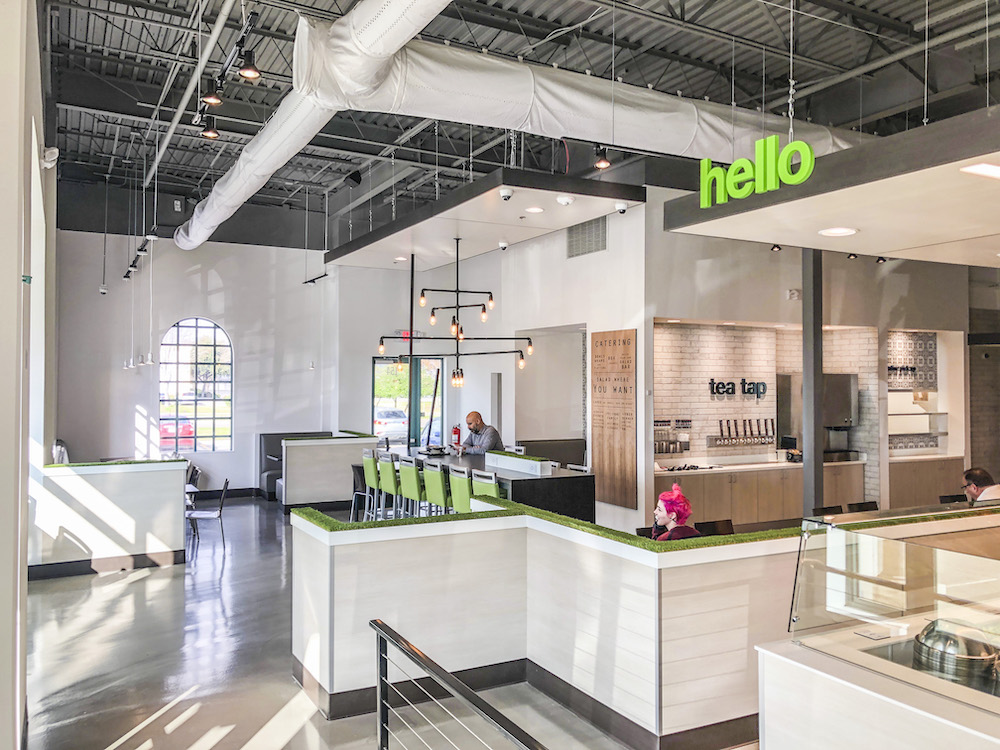 Salata's new design draws inspiration from menu ingredients. With simplicity and playfulness, the design's neutral palette and pops of color allow Salata's food to take center stage. Dining neighborhoods encourage guests to choose a spot that fits their visit, and personal touches like custom chandeliers make the dining experience feel more inviting and elevated.
By ensuring that every touchpoint builds a connection to the revamped brand, Salata makes it easy for franchisees to build their restaurant's look and feel while communicating the brand to guests and employees alike.
Lining Up the Details
To support their growth plans, Salata recently rolled out a completely new tech suite to make the guest experience more rewarding while also improving operations for franchisees.
According to Salata President Michelle Bythewood, these advances "signify another milestone in [Salata's] strategic evolution." She mentions that tech partners such as Olo and Toast are "industry leader[s] in their respective areas and we recognize the significant contributions they are making to drive innovation."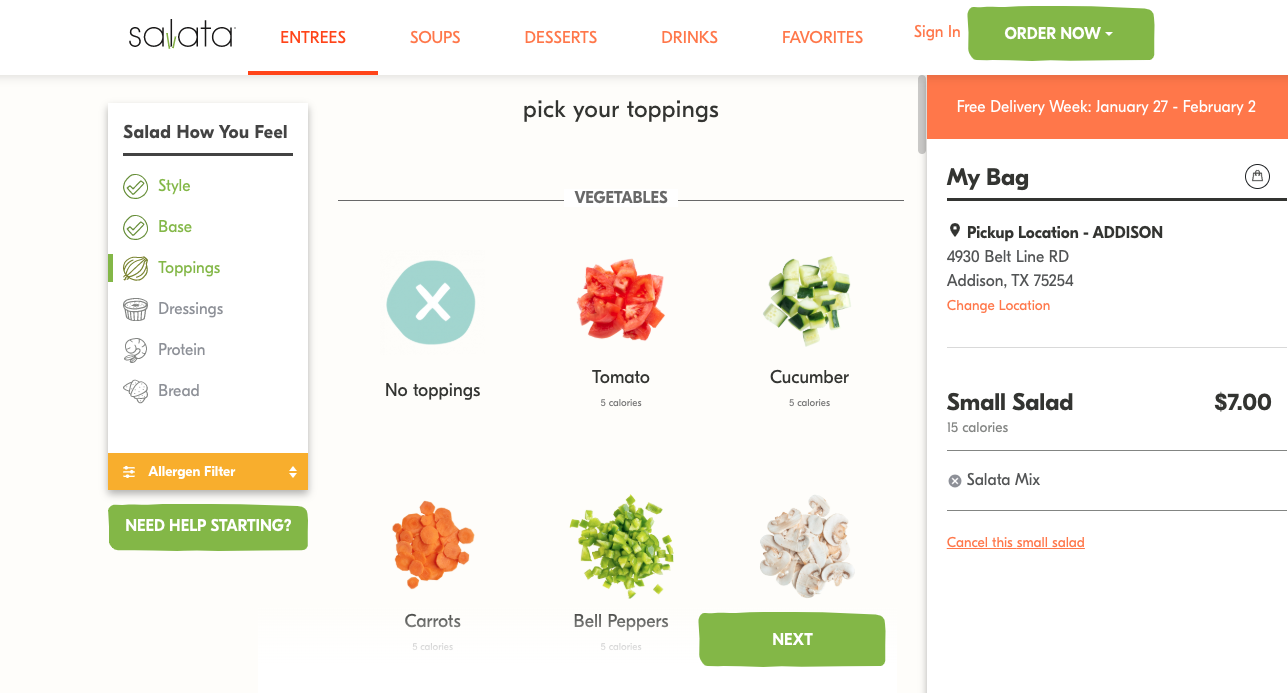 Now at Salata, a new online catering platform allows franchisees to look at their catering sales and use the information to make informed decisions about their business. To encourage continued growth, Salata made managing catering well a priority, and now franchisees can more effectively manage client relationships throughout their full buying journey.
Salata's new cloud-based point-of-sale (POS) system also simplifies operations by combining POS, front-of-house, back-of-house and guest-facing technology on a single platform. This leads to reduced operating costs and allows franchisees to capture information that helps them better serve their customers.
Additional technological advances like online ordering, third-party delivery, and e-gift cards meet expectations of Salata's current and future guests. But they also position Salata and its franchisees for a seamless, positive experience and for scalable growth, grounded in relationships with customers who feel like Salata builds an experience just for them.
As Chief Development Officer at Salata, David Wheeler works to develop new markets and assists in the strategic direction of the company as a member of the Salata executive team. He states, "Working with our internal team and franchisees to develop the resources they'll need to grow and respond to consumer demands is how we're going to make big leaps in the coming years. Putting these resources in place will help get us there."
Guiding Greatness
Salata's success comes from the daily efforts of its franchisees, which is why it seeks to support store leaders with relevant help and comprehensive information.
New franchisees get help choosing their restaurant's site and establishing its design and construction. To keep guests coming and help daily processes run smoothly, all franchisees enjoy ongoing support in operations, IT and marketing. Additionally, Salata provides training for owners and employees to ensure quality and consistency. They work to equip everyone involved to create an authentic Salata experience.
Start a Franchise
With ongoing training and support backed by a recently unveiled rebrand, redesign, and tech suite, Salata has everything in place for franchisees to succeed. It's an exciting time for Salata—and the company is looking forward to bringing new franchisees on board to share in its success!
On board with Salata's vision? Visit their franchise website to learn more.