fresh tips for fourth of july
July 2, 2019
The Fourth of July weekend is just around the corner and seeing as we love hosting, we thought this would be a great time to share some tips on how to make your independence day party as fresh as possible. We know planning a party can be stressful and finding the right tools and ideas can add on even more stress. Don't worry, we've done all the hard work for you so setting up your next Fourth of July party is a breeze. We've created a list of fresh ideas for food, drinks, decorations, and music that will be sure to make you a party planning pro.

salads (of course)

OK, we may be a little biased, but no matter how good the music is or how on point your decorations are, food is where most of your guests are going to spend the majority of their time. Adding a festive salad to your menu serves as a fresh addition to your party plans. Don't get us wrong, we still want you to pull out your grills for some delicious burgers and hotdogs, this will just take your party menu to the next level of freshness and keep all your guests happy. Below are a few salad inspirations for your party menu: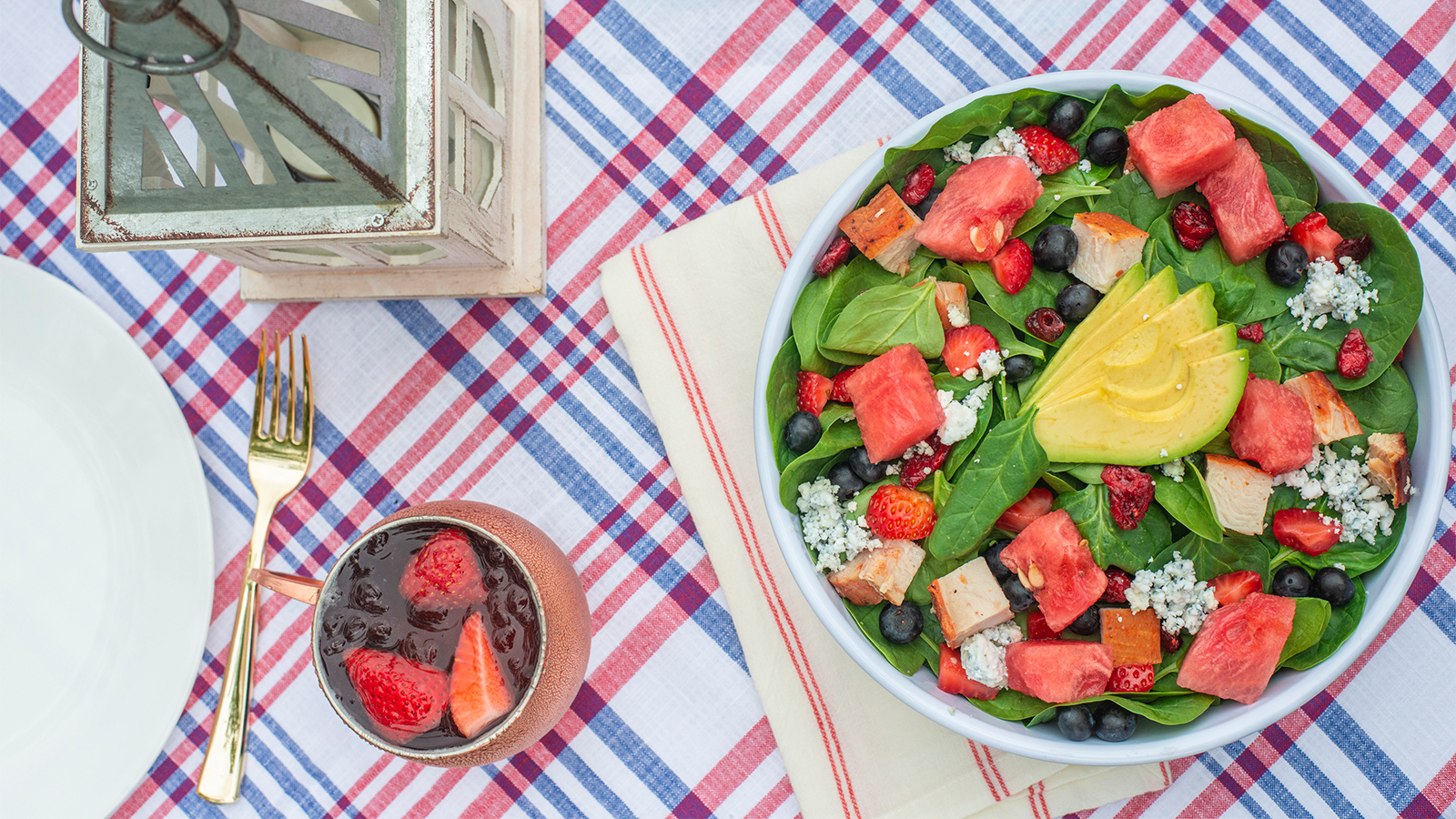 watermelon and blueberry salad
Spinach, strawberries, watermelon, blueberries, blue cheese, pit-smoked turkey, avocado, dried cranberries, plus your favorite herb vinaigrette

simple mixed berry salad
Strawberries, blueberries, blackberries, raspberries, lime juice, and honey

sweet and savory veggie salad
Spinach, kale, strawberries, broccoli, feta, red onion, balsamic dressing

Pro Tip: The best thing about these inspirations is you can follow your best judgment on the amounts of each ingredient. #saladhowyoufeel

beverages

It's time to talk drinks. The second most important party menu item (or first depending on who you talk to) your guests will be looking forward to are your fresh and unique beverage options. Before you start poppin' bottles, it's important to decide whether you're going for a more family-friendly event or more of an adults night away from the kids get together. That way you'll know which type of option you need more of. But either way, we've got you covered. Below are a few options that will please the adults at your party, plus a simple recipe for the kids: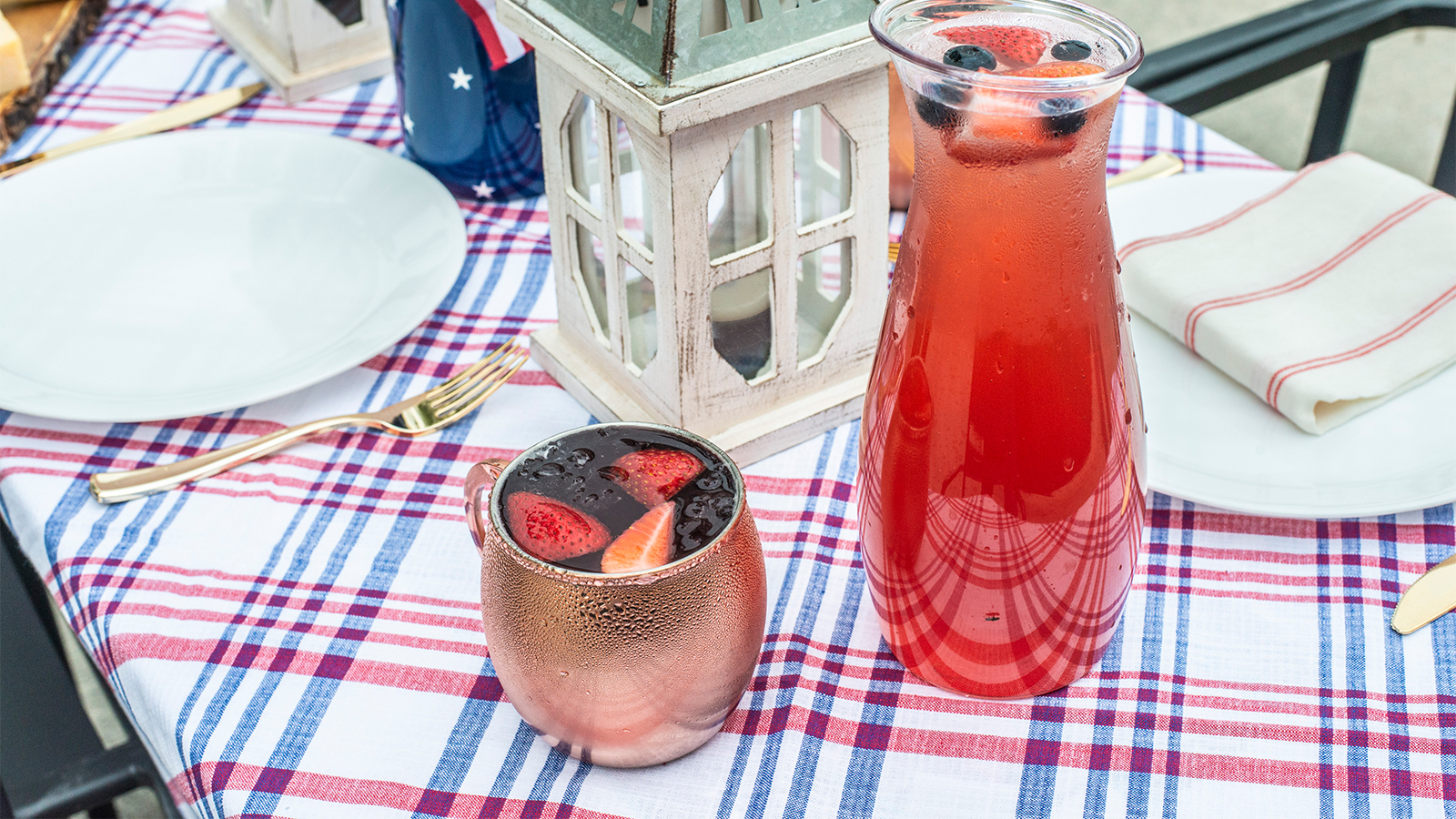 white wine sangria

1 Bottle of Your Favorite White Wine
½ Cup of Vodka
Top off with Sparkling Water or Champagne for Some Bubbles
Strawberries
Blueberries
arnold palmer

Pro Tip: We won't be open on the 4th of July, but if you stop in early you can pick up gallons of your favorite Salata teas and lemonades that would be perfect for your party.

moscow mule

4 Ounces of Ginger beer
2 Ounces of Salata's Prickly Pear Limeade (or your favorite limeade)
2 Ounces of Vodka
Blueberries
Strawberries
crudites

Crudites, or as we like to call them, snacks with a fancy name, are great for your guests to snack on while they wait for the main event. What better way to get the party started then a fresh, light and satisfying salsa that is easy to make or a cheese board that looks impressive but actually only takes ten minutes? Here are a few simple recipes to get you started: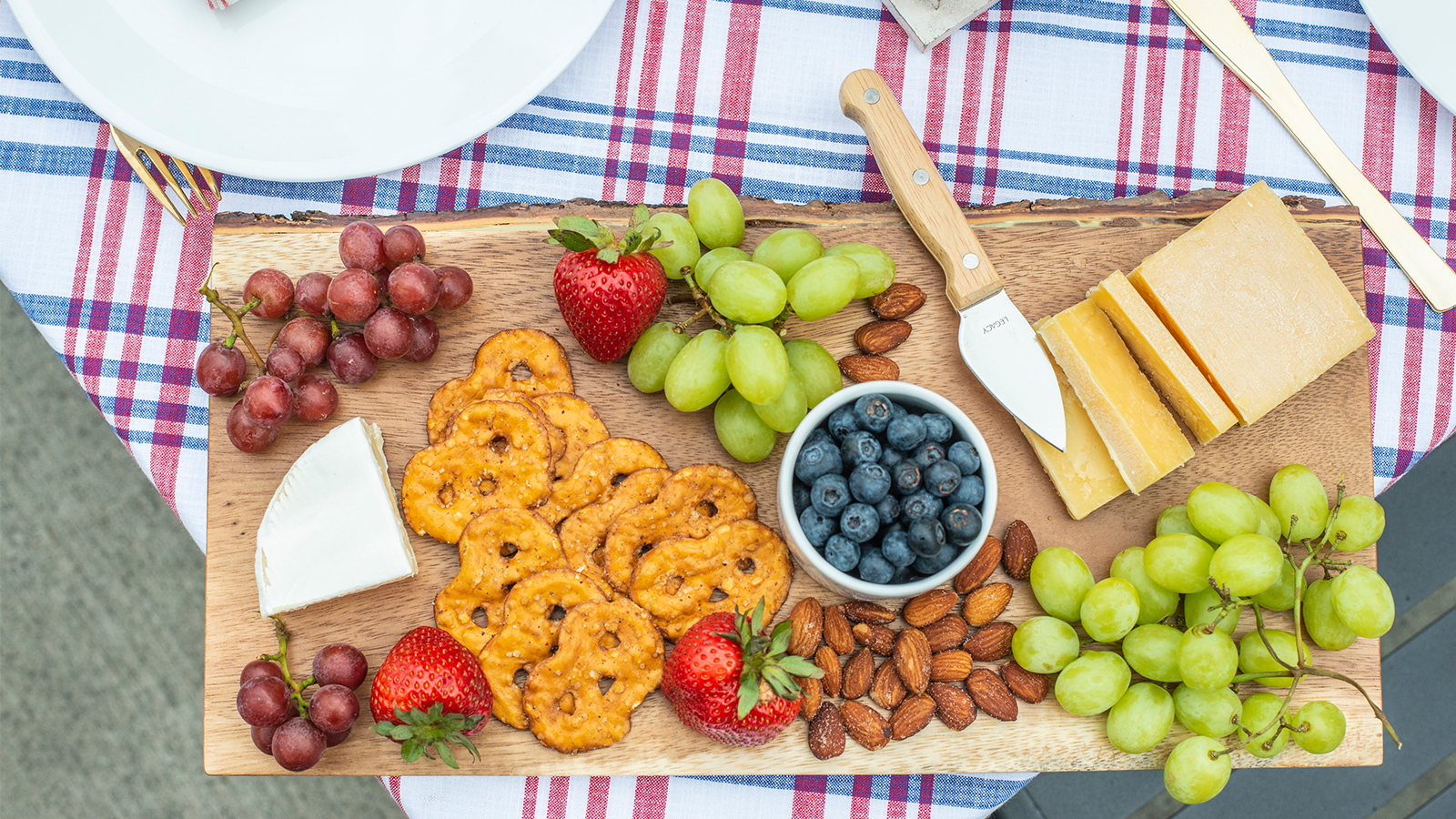 watermelon salsa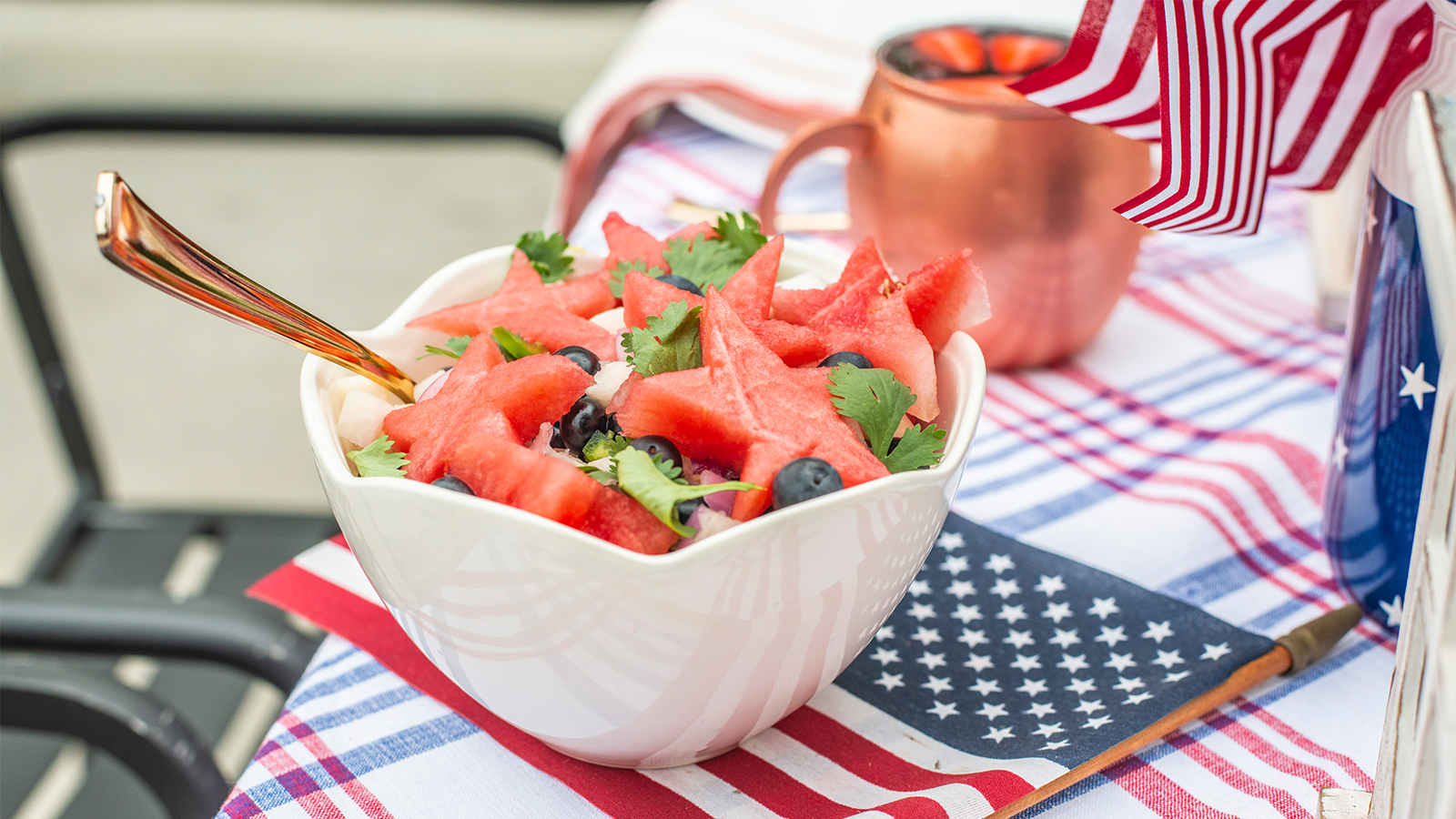 Watermelon (cut into star shapes, because 4th of July)
Blueberries
Jicama
Jalapenos
Cilantro
Red Onion
Lime Juice
Serve with Plantain Chips or Tortilla Chips
cheese board
Favorite Hard Cheese (like cheddar or parmesan)
Favorite Soft Cheese (like brie or camembert)
Grapes
Strawberries
Almonds
Crackers
grilled pineapple
Sliced Pineapple Rounds
Sprinkles of Brown Sugar
Pro tip: It's always a good idea to have more than enough food for those last minute or unexpected guests that may show up!

tablescapes
A festive table is usually the first thing guests will notice when they enter your party, plus it's a chance to really get creative with your space. Here's a few tips that we've learned over the years of catering events and hosting gatherings: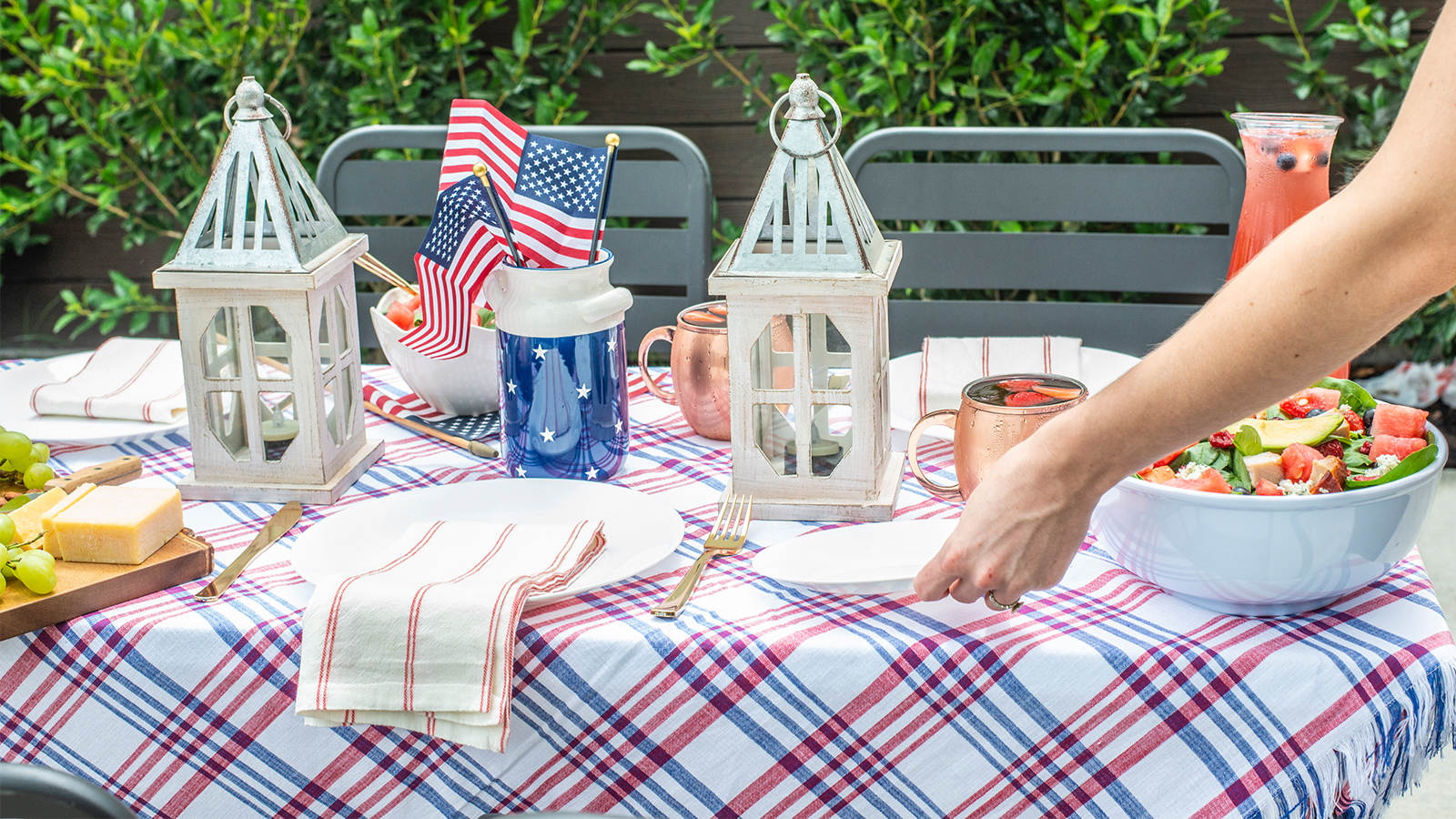 keep it simple

Start by utilizing the bright food you spent so much time on to bring color to your table. Once the food is on the table you can start to fill in blank spots with decorations from there.

dinnerware

It's usually a good rule of thumb to choose either neutral dinnerware (plates, bowls) or neutral decor. For our tablescape, we chose to keep the dinnerware very neutral and used napkins and a festive tablecloth to bring in the theme.

use what you have

There's no need to run out and buy a bunch of decorations for one party. Do some shopping in your own home to find items that could be repurposed on your table.

Hint: The lanterns on our tablescape normally live on the mantel in one of our houses.

playlist

While we think the food at any party should definitely take center stage, the music sets the tone of any event. Our best advice when creating your party playlist is to make sure upbeat music is gradually introduced. If you're stuck on what to have playing in the background this Fourth of July, check out our playlist of upbeat tracks for inspiration. Or just put this playlist on replay. We won't tell anyone you didn't create it yourself.